Used Trucks Lexington KY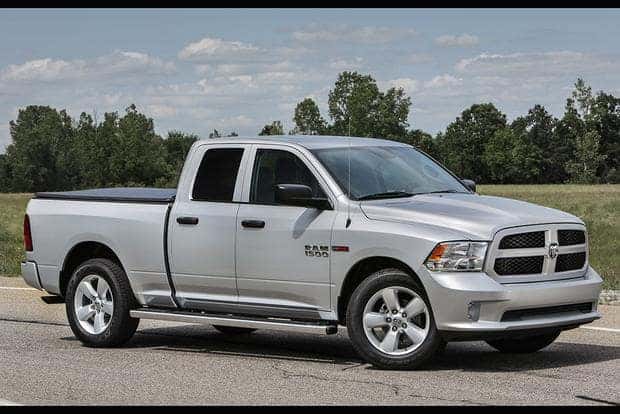 Are you looking for a used truck in Lexington, KY? Then you've come to the right place. At Glenn's Freedom Chrysler Dodge Jeep Ram, we offer one of the best inventories of used trucks in the state of Kentucky! Shop our Used Truck Inventory today!
Why Choose Glenn's Freedom For Your Used Truck Purchase?
We offer LOW-UPFRONT PRICING on all of our inventory. We use advanced market analytics to make sure all of our prices stay competitive. We know you are looking for the best vehicle at the lowest price and we have a huge selection to choose from. We also offer 15-MINUTE APPRAISALS and give you a guaranteed cash offer your current vehicle.
All of our trucks go through a RIGOROUS RECONDITIONING PROCESS:
125-point inspection by a Mopar-certified technician
Replace any worn parts
Professionally wash and detail
Professionally repair any obvious cosmetic defects
If you need a quality used truck that's ready to haul, look no further than Glenn's Freedom Chrysler Dodge Jeep Ram. Give us a call today at (859) 268-3000 and or stop by our dealership at 1560 E. New Circle Rd in Lexington, KY.
Used Trucks For Sale By Make
Buying a Used Truck? Consider These Important Factors
Size
Pickup trucks come in a variety of sizes – generally categorized as mid-size (or compact), full-size (or half ton) or heavy duty (or 3/4 ton). Popular mid-size trucks include the Toyota Tacoma, Chevy Colorado and the newly re-introduced Ford Ranger. The full-size category, the most popular size, is dominated by the Ford F-150, Chevy Silverado 1500 and the All-New Ram 1500. Heavy Duty trucks are typically hold the same name as their full-size brethren but replace the 1500 with a 2500 or 3500 (or F-250 and F-350 for the Ford F-series).
Capability
Generally speaking, the size of the pickup truck will correlate with the capability (horsepower, torque, towing capacity). The bigger the truck the bigger the engine which offers the ability to haul a heavier payload. Before you buy a used truck, you need to know that the truck can haul everything you need it to. Do you have a boat or haul other things with a trailer? You'll need an engine that can keep up especially if you'll be towing a lot or towing uphill.
Diesel or Gas
While diesel engines are typically a mainstay of the Heavy Duty pickup truck, more and more options have become available in the mid and full size category. While the vast majority of used mid-size and full-size on the market have gasoline engines, knowing whether or not you want a diesel or gas engine is a question you should have answered. Diesel engines can offer longevity and better fuel economy than gasoline engines. However, diesel fuel is generally more expensive than gasoline and diesel oil changes (although not needed as often) will have you shelling out more cash than a gasoline oil change.
Cab Size
Another important factor to consider when buying a used pickup truck is the cab size and interior comfort of the vehicle. Knowing the cab sizes that are available is especially critical if you'll need your truck to haul around your family as well. Cab sizes are typically referred to as regular cab, extended cab, or crew cab. A regular cab is a one-row (2-3 person) truck with one door. A regular cab will generally be priced cheaper than other cab sizes and allows for easier handling of a long truck bed. Two row cab options include the extended cab and the crew cab. A crew cab is the largest cab size and offers two full-sized doors and generally more leg room for rear passengers. An extended cab can have two full-sized doors but can also have smaller front-hinged doors or no doors at all. Extended cabs are generally less expensive than crew cabs but offer less comfort especially to your fellow backseat passengers.
Truck Bed
While driving a truck has several advantages over a car or SUV, the primary reason for purchasing a truck is the capability of hauling things around in your truck bed. Truck beds come in various sizes depending on the overall size and cab size of your truck. On a full-size truck, the standard bed size is 8 feet with a regular cab. Once you go extended or crew cab, this typically goes to a 6 foot or 5 foot bed, respectively. Another (too often overlooked) feature is a bedliner. A quality bedliner can protect your trucks bed and help maintain the value of your vehicle. Glenn's Freedom is proud to offer high-quality spray-on truck bedliners to all of its new and used truck customers! Learn more about Spray-On Bedliners here.
Condition
Let's face it, even the most careful truck owners put their trucks through some pretty tough times during both normal driving conditions and when hauling around cargo. When looking for a used truck, it's important to know as much as you can about the condition of the truck you are going to buy. Make sure to get a CarFax history report and even consider the benefits of having the truck inspected by someone who knows what to look for. Check for rust and other wear and tear before you agree to buy the vehicle. And always, always, always be sure to test drive your used pickup truck!