Glenn's Freedom Plan – Explained!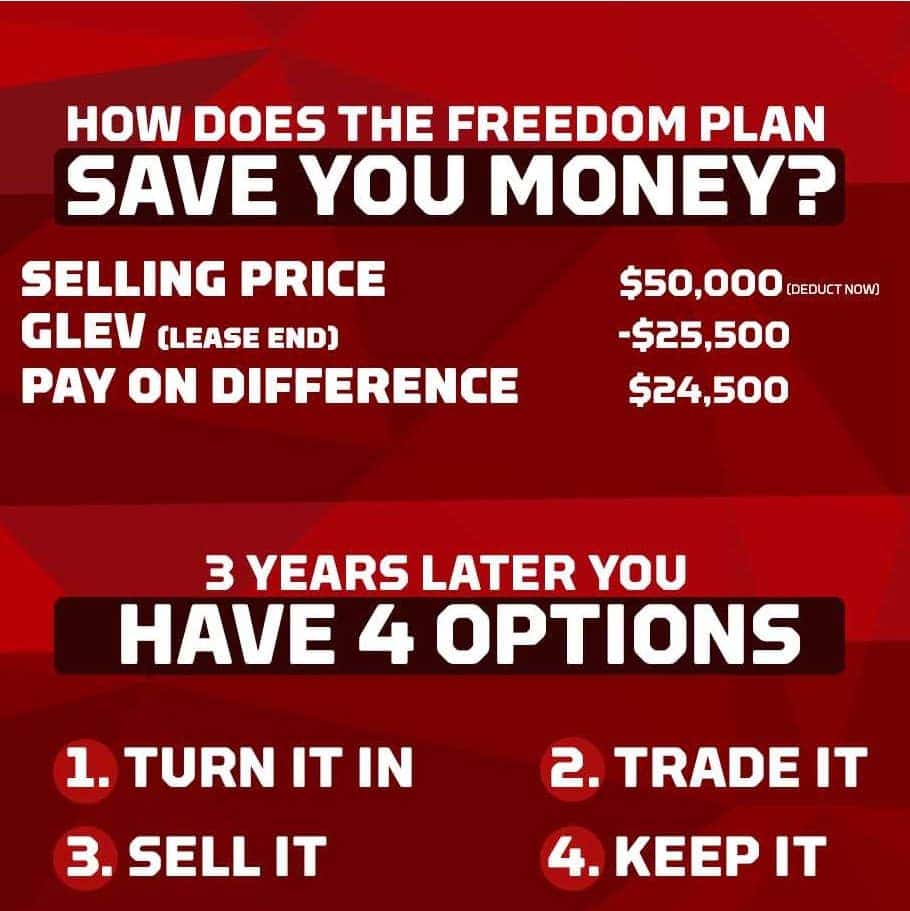 If you've shopped with us before, you may have heard of our "Freedom Plan". At Glenn's Freedom, we have one mission: To Change the Way Kentucky Buys Cars! Our  Freedom Plan is one of the ways we do that. We've designed our Freedom Plan to give our customers the most financial flexibility with their auto purchase. Most of our customers understand their options when purchasing their vehicle outright. However, few customers understand the many benefits of leasing a vehicle. Our Freedom Plan helps to simplify this confusion and helps our customers determine which option is the best fit for them. The Glenn's Freedom Plan provides our lease customers with four options at the end of the lease term: Turn It In, Trade It, Sell It, or Keep It. This article will explore these options in further detail to help you make the smartest financial decision for you and your family.
Turn It In
So you've reached the end of your lease term, one option for you is to simply turn your vehicle in and walk away. It really is that simple. Before you turn in your vehicle, you should be aware of any potential charges such as a disposition fee, mileage charges and additional charges for wear and tear. These charges were established at the beginning of your lease, so shouldn't come as a surprise but you should certainly be aware of them when turning in your vehicle.
Trade It
Another option for you is to trade in the car you were driving for another vehicle. Let's say you've reached the end of your lease term and aren't a huge fan of the car you were driving. Do you need more room or simply want to upgrade to newer technology? Whatever the reason, your current vehicle is no longer meeting your needs. By trading in your vehicle, you can bypass the disposition fee and charges for mileage or wear and tear that you get when you walk away from your lease. At Glenn's Freedom, we pay top dollar for your trade, and can help you in your search for a new vehicle! Use our Trade Value Tool to see what your vehicle is worth!
Sell It
Another option offered in our Freedom Plan is to sell your current vehicle. Let's say you no longer need the car you've been driving, you may be able to sell the vehicle and actually make some extra cash! If you've taken great care of the vehicle and the market value exceeds the residual value established in your lease contract, you can sell the vehicle (either privately or sell it back to us!) and earn cash for the difference!
Keep It
Are you enjoying the vehicle you've been leasing? Then keep it! The final option in our Freedom Plan is to simply purchase the car outright. You have the first right of refusal to purchase your vehicle for the residual value at the end of your lease. This may be the best option for you if you've gone way over your mileage allowance and want to avoid the big mileage penalty coming your way. Another reason this option will make sense is if the buyout price is your lease contract is less than the market value of your current vehicle. You can use tools such as our KBB Value Tool to help you determine the market value of your vehicle.
Thanks for reading our blog post on the Glenn's Freedom Plan- Explained! At Glenn's Freedom Chrysler Dodge Jeep Ram, we are proud to be Kentucky's #1 CDJR dealer by volume. We proudly offer one of the largest selections of Chrysler, Dodge, Ram, and Jeep in the state of Kentucky. Shop our current lease specials here! Or stop by our dealership located at 1560 E. New Circle Road in Lexington, Kentucky.