Available Engines on the 2019 RAM 3500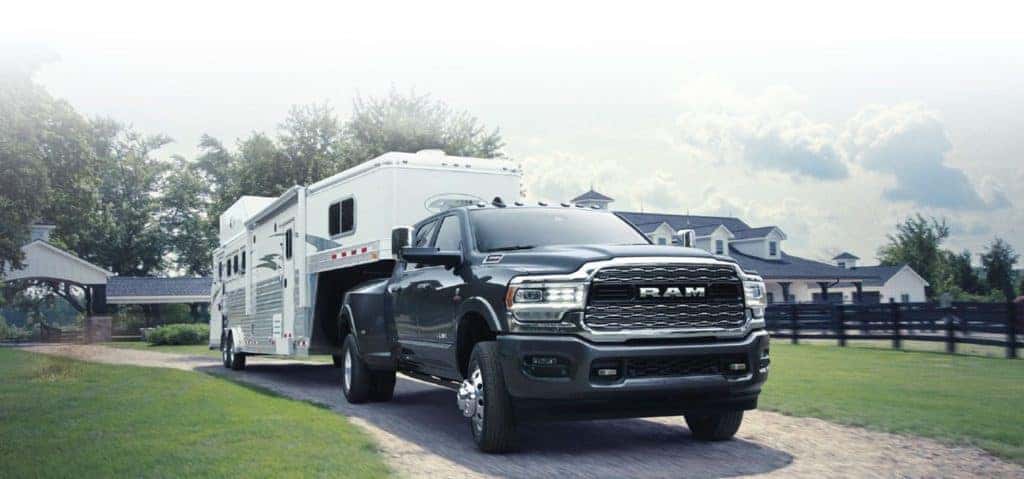 The RAM 3500 is the most capable heavy-duty pickup in its class. With 3 available engine types, 6 available trim levels and several more customizable configurations; the RAM 3500 meets the grueling demands of any heavy duty truck owner. Stacked up against the more recognizable brands of Ford and Chevy, the new 2019 RAM 3500 stands alone with more torque, higher towing capacity and higher payload. In this article we will explore the available engines in the All-New 2019 RAM 3500 and discover why RAM is the brand most preferred by professional haulers.
6.4L HEMI® V8 ENGINE

First up is the iconic 6.4L HEMI V8 Engine. This engine comes standard in the 2019 RAM 3500 and delivers an impressive 429 lb-ft of torque and best-in-class 410 horsepower. The gasoline engine uses variable cam timing (VCT) paired with the new TorqueFlite 8HP75 8-speed transmission to deliver superior performance. The new transmission features over 40 individual shift maps to refine shift points for maximum engine efficiency. The 6.4L HEMI V8 delivers its drivers up to 17,130 lbs of maximum towing capacity and up to 7,680 lbs of maximum payload when properly equipped.
6.7L CUMMINS®TURBO DIESEL I6 ENGINE

The next available engine in the RAM 3500 lineup has been the gold standard in diesel engines – the 6.7L CUMMINS® TURBO DIESEL I6 Engine. Professional haulers know that torque is the most important component in regards to towing. The 6.7L Turbo Diesel delivers an impressive 850 lb-ft of torque along with 370 max horsepower. When properly equipped with a dual-rear wheel, this engine configuration can tow a maximum of 22,740 lbs and reach a maximum payload capacity of 6,910 lbs. The 6.7L Cummins Turbo Diesel I6 Engine is paired with the Corporate 68RFE six-speed automatic transmission. The 6-speed is a sophisticated, multi-range, electronically controlled transmission with gear ratios optimized for the 6.7L Turbo Diesel engine. It features responsive performance and low noise, vibration and harshness making it a highly capable towing machine.
6.7L HIGH OUTPUT CUMMINS® TURBO DIESEL I6 ENGINE

The All-New 2019 RAM 3500 also features an all-new Cummins diesel engine. As Cummins and RAM celebrate their 30th year in partnering to build long-lasting diesel engine trucks, the all-new 6.7L HIGH OUTPUT CUMMINS® TURBO DIESEL I6 ENGINE delivers improved performance in every metric. The High Output Diesel Engine puts out 400 maximum horsepower and delivers best-in-class 1,000 lb-ft of torque at 1,800 rpm. When properly equipped, this engine provides an impressive maximum towing capacity of 35,100 lbs along with 6,910 lbs of maximum payload capacity. The all-new High Output Turbo Diesel helps the 2019 RAM 3500 sweep the competition in Diesel Towing Capacity, Diesel Payload and Diesel Torque! The all-new engine is paired with the fully electronically controlled Aisin AS69RC six-speed automatic transmission which has also been upgraded for enhanced durability, reduced noise, vibration and harshness along with new software control for more seamless shifting. All said – it's a no brainer that the All-New RAM 3500 is the ultimate towing heavy duty truck on the market.
RAM Trucks have long been recognized as the gold-standard in towing and the 2019 RAM 3500 is no exception. Completely redesigned from the inside out, the All-New RAM 3500 is now more capable and comfortable than ever. With a Manufacturer's Stated Retail Price (MSRP) starting at $35,095 there is no reason to look any further than the RAM 3500 for your next truck.
Thank you for reading this article exploring the available engines on the All-New 2019 RAM 3500. Glenn's Freedom RAM is proud to offer the RAM 3500 along with the entire lineup of RAM trucks. You can shop our entire inventory of RAM 3500 here – offered with our exclusive low-upfront pricing and 15-minute trade appraisals. Call us today at (859) 268-3000 to speak with a RAM-certified sales specialist or stop by our dealership located at 1560 E. New Circle Rd in Lexington, KY. We are ready to show you why we are the #1 RAM dealership in the state of Kentucky!