2021 Ram 1500 vs 2021 Chevrolet Silverado

The Ram 1500 and Chevrolet Silverado are two of the best-selling pickup trucks in America. Both of these full-size pickups have recently undergone extensive redesigns which offer modern technology and capability. If you are in the market for a new truck, you'll want to do some extensive research to help determine which truck is the best fit for your needs. We are here to help! In this article, we will compare the 2021 Ram 1500 vs 2021 Chevy Silverado.
Ram 1500 vs Chevy Silverado Engines
Both the Ram 1500 and Chevy Silverado offer drivers a wide-range of available engine options. The Ram 1500 currently offers 5 available engines while the Chevy Silverado offers 6 available engines. The available engines on the Ram 1500 include a 3.6L Pentastar V6, 5.7L Hemi V8 with and without eTorque, a 3.0L Ecodiesel V6 and the incredibly powerful Supercharged 6.2L Hemi V8. On the Silverado you can opt for a 2.7L Turbo, a 4.3L V6, a 5.3L V8, a 6.2L V8 and the Duramax 3.0L Turbo-Diesel.
Ram 1500 vs Chevy Silverado Capability
Now that we've reviewed the engine options, let's take a look at the capability for each of these pickup trucks. New for the 2021 model year is the Ram 1500 TRX which comes with the Supercharged 6.2L Hemi V8- the most powerful factory engine ever in a half-ton truck. This engine gets a maximum 702 horsepower and 650 lb-ft of torque. These specs will dwarf every other engine on the market. The most powerful Silverado engine is the 6.2L V8 which gets 420 horsepower and 460 lb-ft of torque. The 5.7L Hemi V8 on the Ram 1500 gets 395 horsepower and 410 lb-ft of torque.
What do these specs mean for towing capacity and payload? The Ram 1500 can tow up to 12,750 pounds when properly equipped. The maximum payload capacity on the 2021 Ram 1500 is 2,322 pounds. The 2021 Chevrolet Silverado can tow up to 13,300 pounds, a slight edge over the Ram 1500. Total payload capacity on the Silverado is 2,280 pounds giving the slight edge to the Ram 1500. There are a lot of factors that affect the towing and payload capacity – check with your dealer for details.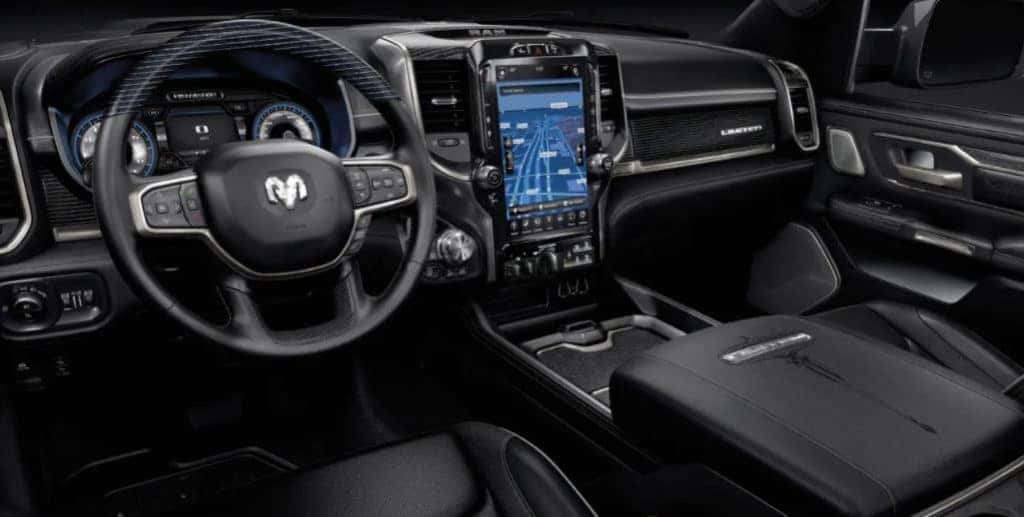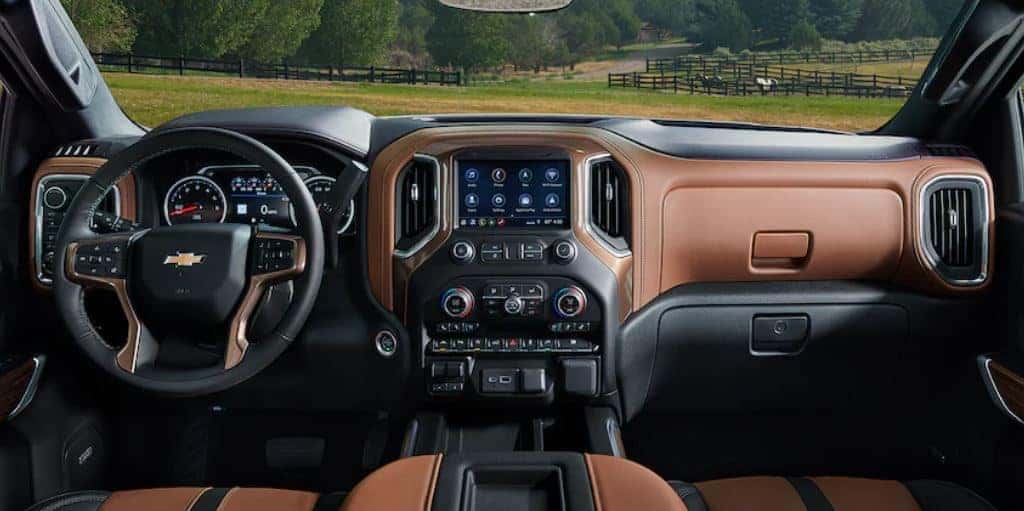 Ram 1500 vs Chevy Silverado Technology
Both the Ram 1500 and Chevy Silverado offer drivers a ton of modern technology features. On the Ram 1500, you can get the available 12" Uconnect Touchscreen infotainment system which offers features like Apple CarPlay/ Android Auto, Navigation with customizable home screen and split-screen capability. The Chevy Silverado offers many of these same features but on a smaller 8" touchscreen and without the customizable home screen and split screen capability. The Chevy Silverado offers a 7-speaker Bose Premium Sound System which is again outdone by the Ram 1500's 19-speaker Harman Kardon Premium Sound System. Both vehicles offer a wireless phone charger and USB ports throughout the cabin. All said, we have to give the slight edge to the Ram 1500 due to its more impressive technology offerings.
Ram 1500 vs Chevy Silverado Safety Features
Safety features are another important part of your purchasing decision. Both the Silverado and Ram 1500 offer many advanced safety features. Both trucks offer Forward Collision Warning with automatic braking as well as Adaptive Cruise Control. Both vehicles also offer Blind Spot Monitoring, Park Assist and Rear Backup Cameras. One of the most trusted sources for vehicle safety is the Insurance Institute for Highway Safety (IIHS). This organization rated the 2021 Ram 1500 as it's only Top Safety Pick in the Large Pickup category. This rating alone makes us give the safety edge to the Ram 1500.
Ram 1500 vs Chevy Silverado Pricing & Warranty
The price of a pickup truck can vary widely depending on multiple factors like trim level/features to drivetrain/engine type. Nevertheless, the 2021 Chevrolet Silverado starts at a base level MSRP of $29,300. The 2021 Ram 1500 starts at an MSRP of $32,795. Comparing similar trims/options, the Ram 1500 Big Horn 4×2 with a V6 engine has an MSRP of $37,390. This is a few grand less than a Silverado LT 4×2 with a four-cylinder turbocharged engine. While the Silverado has a lower base price, you will generally find the Ram 1500 to be a better value when comparing similar trim levels. Both Ram and Chevy offer similar warranties: a 3-year or 36,000 mile bumper-to-bumper warranty and a 5-year or 60,000 powertrain warranty.
2021 Ram 1500 at Glenn's Freedom Ram
Thanks for reading our article comparing the 2021 Ram 1500 to the 2021 Chevrolet Silverado. Glenn's Freedom Ram is proud to offer the Ram 1500 for sale to customers in Kentucky. Our Ram Sales Specialists are standing by to answer any questions you have regarding your purchasing decision. Call, click or stop by our Ram dealership in Lexington, KY today!